atrioventricular septal defect (avsd) – partial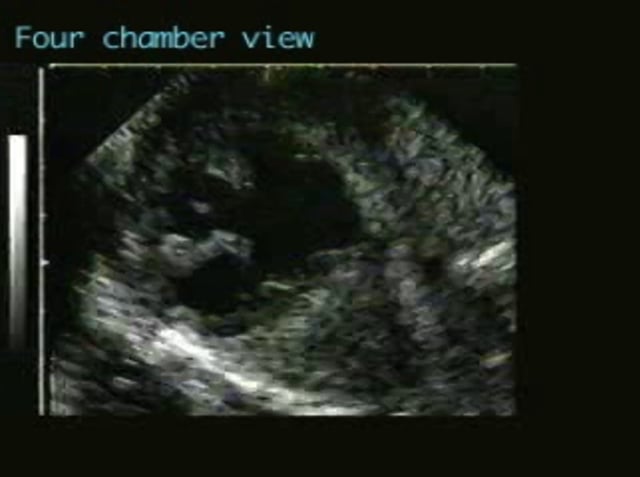 avsd - partial
in a partial atrioventricular canal defect, there is a defect in the primum atrial septum but the ventricular septum is intact. there is loss of differential insertion of the atrioventricular valves at the crux of the heart.
description
in this condition, the junction of the lower part of the atrial septum to the atrioventricular valve insertion is not intact. anatomically, there is always a common av valve although there are usually two orifices in a partial defect. it is commonly associated with down syndrome or is found in the setting of atrial isomerism, particularly left atrial isomerism. in its isolated form in a child with normal chromosomes, it may also be associated with left heart obstructive disease. it presents in infancy or early childhood with signs of a left to right shunt at the atrial level. surgical repair is usually satisfactory although mitral valve incompetence can be a difficult complication which may necessitate valve replacement. this is always problematic in children as long term anticoagulation therapy is required as well as subsequent valve replacement with growth of the child. associated left heart disease can complicate the outcome, even to the extent of leading to a one ventricle repair.
diagnosis
the four chamber view in the fetus is abnormal in that there is a defect in the lower portion of the atrial septum, the primum septum. there is also loss of the normal differential insertion of the two av valves so that they are equally positioned at the crest of the ventricular septum.
differential diagnosis
if the four chamber view is imaged very low in the thorax, the normal drainage of the coronary sinus may be mistaken for a primum asd, especially if this structure is dilated. in this situation, there is differential insertion of the av valves, which is never present in a primum asd.
sonographic features
primum atrial defect loss of differential insertion of the av valves.
associated syndromes
asplenia
charge assn.
cri-du-chat 5p-
fas (fetal alcohol syndrome)
goldenhar
holt-oram
polysplenia
rubella
thalidomide
treacher-collins
trisomy 13
trisomy 18
trisomy 21
wolf 4p-
references
anderson rh, mccartney fj, shinebourne ea, tynan m (eds in: paediatric cardiology churchill livingstone: edinburgh, p571-615
machado mvl, crawford dc, anderson rh, allan ld atrioventricular septal defect in prenatal life br heart j 59:352-355
allan ld, sharland gk, milburn a, lockhart sm, groves amm, anderson rh, cook ac, fagg nlk prospective diagnosis of 1,006 consecutive cases of congenital heart disease in the fetus j am coll cardiol 23:1452-8
allan ld, sharland g, cook a in: color atlas of fetal cardiology mosby-wolfe, london, p49-59
feldt rh, porter cj, edwards wd, puga fj, seward jb in:. heart disease in infants, children and adolescents adams fh, emmanouilides gc, riemenschneider ta (eds) williams and wilkins: baltimore, p170-189