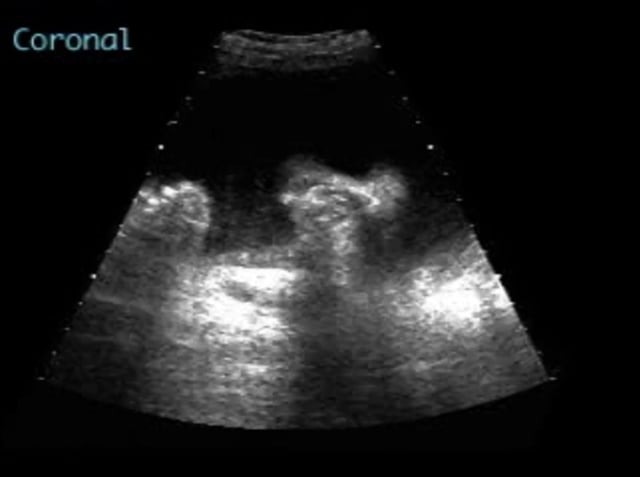 cataract
multiple craniofacial abnormalities are demonstrated. a striking aberration of the profile view suggests micrognathia. transverse orientation of the imaging plane confirms microcephaly and illustrates abnormal echogenicity of the lens consistent with cataract formation. final frames display a low set dysplastic ear.
description
cataracts are opacities of the crystalline lens and account for 10% of childhood blindness. the incidence is around 2.7 per 10,000. prenatal diagnosis is, therefore ,important as early surgery will allow normal visual development. they can be seen in otherwise normal eyes, or in microphthalmic or malformed eyes. they may be part of a recurrent autosomal dominant trait, or may occur without any history of familial syndrome, infection or metabolic disorder. diagnosis is possible from the 2nd trimester although the exact onset is still uncertain. they are classified according to their morphology or to their location in the lens. morphological types include anterior polar, anterior cortical, nuclear, lamellar, total, sectoral, posterior cortical and posterior lentiglobus/lenticonus. the latter is the most common when the eyes are of normal size. in this situation, 90% are unilateral.
diagnosis
a transverse (axial) section of the skull in the orbital plane provides the optimal view of the eyes. an oblique tangential section from the nasal bridge may also detect the normal fetal lens, seen as a hypoechogenic circle, with a hyperechogenic circular border, lateral to the nose, in the anterior part of the orbit. the lens has a ventral location; it occupies 25 to 30% of the eye diameter at 12 to 16 weeks gestation, with reduced relative size in later gestation; the hyaloid artery, which can also be visualised in the tangential plane, is seen to connect the posterior capsule of this circular structure to the retina. the hyaloid artery is seen clearly at 15 weeks and regresses by 25 weeks gestation. a cataract will be observed as a uniformly hyperechogenic structure. the normally smooth border may be irregular. with patient observation one may occasionally observe synchronised bilateral movement of the lens. serial sonography may be useful.
differential diagnosis
a fetal colobomatous cyst occupies a more posterior location, and is not connected to the hyaloid artery.
sonographic features
hyperechogenic structure, with irregular border; in comparison to the normal hypoechogenic circle, with a hyperechogenic smooth circular border, that represents the normal fetal lens
ventral location, in the anterior part of the orbit occupies 25 to 30% of the eye diameter at 12 to 16 weeks gestation, with reduced relative size in later gestation
the hyaloid artery, which can also be visualised in the tangential plane, can be seen to connect the posterior capsule of this circular structure and the retina
associated syndromes
cerebro-oculo facial-skeletal
chondrodysplasia punctata
chromosomal anomalies
hallerman-streiff
isolated
lowe
meckel-gruber
norrie
smith-lemli-opitz
teratogen exposure
zellweger
references
bronshtein m, zimmer e, gershoni-baruch r, yoffe n, meyer h, blumenfeld z first- and second-trimester diagnosis of fetal ocular and associated anomalies: report of eight cases obstet gynecol 77: 443-9
traboulsi e cataract in human malformations and related anomalies. oxford university press, new york, p181-2
birnholz jc ultrasonic fetal ophthalmology early human development 12: 199-209