hydrocephaly – unilateral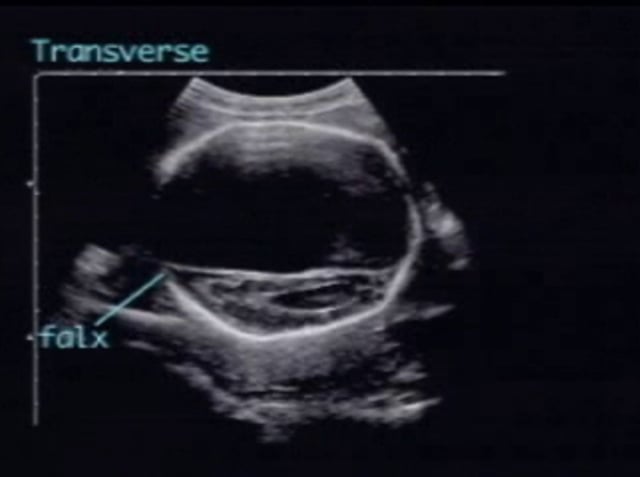 hydrocephaly unilateral
hydrocephaly unilateral the frontal horns seen anteriorly are mildly dilated in the initial view and as the transducer is moved posteriorly, the massive ventriculomegaly on the side nearest the transducer is seen.
description
this refers to unilateral cerebral ventriculomegaly which arises secondary to functional or congenital obstruction of the foramen of monro, impeding effective passage of cerebrospinal fluid (csf) from the affected lateral ventricle. hydrocephaly ex vacuo, secondary to parenchymal degeneration, is to be considered as a manifestation of porencephaly. congenital obstruction is caused by stenosis, atresia, or more rarely agenesis of monro's foramen; functional obstruction may be seen secondary to intraventricular haemorrhage or intracranial tumours which directly affect the patency of the foramen. the condition is not common, and only a handful of cases have been described prenatally.
diagnosis
this diagnosis has only been reported in the third trimester. the principal sonographic finding is unilateral dilatation of the cerebral ventricles (lateral atrial diameter greater than 12mm; dependency of the choroid should also be appreciated). the unilateral nature can only be confirmed by careful inspection of the contralateral ventricle, which should retain normal dimensions. this may be difficult to visualize if the affected ventricle is furthest away in the transverse plane, as reverberation artefact may preclude effective assessment of the nearside ventricle. coronal views may therefore be helpful; in the third trimester, vaginal scanning should be useful in this respect. the remainder of the ventricular system should also appear normal. ipsilateral cortical thinning and midline shift secondary to pronounced ventriculomegaly has been reported, as has frontal encephalocele; the condition does not appear to be associated with any syndromic or remote abnormalities, possibly reflecting the localised nature of the lesion. for these reasons, karyotyping would not appear mandatory.
differential diagnosis
unilateral porencephaly may also present with similar sonographic findings, and may indeed represent a form of hydrocephaly ex vacuo, but the presence of appreciable midline shift will indicate the diagnosis of unilateral hydrocephaly. a large arachnoid cyst may also present with a unilateral intracranial cystic mass with midline shift, but dependent choroid will not be evident within it.
sonographic features
unilateral cerebral ventriculomegaly.
normal dimensions of contralateral cerebral ventricle, 3rd and 4th ventricles.
ipsilateral cortical thinning.
midline shift.
associated syndromes
aminopterin
aminopterin-likeamniocentesis
aniridia-renal anomalies
anophthalmia-abnormal nares
anophthalmia-cleft lip/palate
aqueduct stenosis-basilar impression
basal cell nevus
beemer: dense bones
bijlsma: aqueduct stenosis
bone fragility-proptosis
campomelia-aankyloglossia
cataract-ossified pinnae
centromere instability-immunodeficiency
cerebroarthrodigital
charge association
chromosome
ciliary akinesia/dyskinesia
clefting-corneal opacity
crouzon
daish: tall stature-joint hypermobility
de hauwere: iris dysplasia
epidermal nevus syndrome
fine: ocular anomalies-cleft palate-asymmetry
fraser: cryptophthalmos
goldenhar
habel: microstomia-hydrocephalus
hajdu-cheney
hanhart: hypoglossia-hypodactyly
heptacarpo-octatarso-dactyly
hydrocephalus-endocardial fibroelastosis-cataracts
hydrocephalus-proliferative vasculopathy
hydrolethalus
jeune thoracic dysplasia
masa
mulibrey nanism
neurocutaneous melanosis
neurofibromatosis
ochoa: urofacial syndrome
osteogenesis imperfecta, lethal type
osteoglophonic dwarfism
oto-palato-digital ii
palmer-pagon: hydrocephalus-low umbilicus
petersí-plus
pfeiffer: synostosis-deafness
pseudomarfanismrenal cysts
rhizomelic chondrodysplasia-thrombocytopenia
rogers: anophthalmia
schinzel-giedion: dwarfism
sengers: obesity-hypogenitalism
thakker-donnai
tibial aplasia-ectrodactyly
trigonocephaly
van biervliet: thoracic dystrophy
vater
vacterl
waaler: costovertebral dysplasi
-warburg
weaver: craniosynostosis
winter: thoracic dysplasia
winter-wigglesworth: cerebro-renal
x linked-unusual facies-callosal agenesis
references
levitsky db, mack la, nyberg da, shurtleff db, shields la, nghiem hv, cyr dr fetal aqueductal stenosis diagnosed sonographically: how grave is the prognosis? ajr 164: 715-730
mmÁlÁ p, salonen r first-trimester diagnosis of hydrolethalus syndrome ultrasound obstet gynecol 5: 60-62
giuffrË r, pastore fs, de santis s connatal (fetal) hydrocephalus: an acquired pathology? childís nerv syst 11: 97-101
mondkar j, kalgutkar a, nalavade y, fernandez a congenital primary cerebral neuroblastoma indian pediatr 31: 698-702
paidas mj, cohen a disorders of the central nervous system semin perinatol 18: 266-282
twining p, jaspan t, zuccollo j the outcome of fetal ventriculomegaly br j radiol 67: 26-31
farrell sa down syndrome and fetal ventriculomegaly prenat diagn 14: 647-652
farrell ta, hertzberg bs, kliewer ma, harris l, paine ss fetal lateral ventricles: reassessment of normal values for atrial diameter at us radiology 193: 409-411
alagappan r, browning pd, laorr a, mcgahan jp distal lateral ventricular atrium: reevaluation of normal range radiology 193: 405-408
montemagno r, soothill pw, scarcelli m, oíbrien p, rodeck ch detection of alloimmune thrombocytopenia as cause of isolated hydrocephalus by fetal blood sampling lancet 343: 1300-1301
hertzberg bs, lile r, foosaner de, kliewer ma, paine s, paulson ek, carroll ba, bowie jd choroid plexus-ventricular wall separation in fetuses with normal-sized cerebral ventricles at sonography: postnatal outcome ajr 163: 405-410
patel md, filly al, hersh dr, goldstein rb isolated mild fetal cerebral ventriculomegaly: clinical course and outco radiology 192: 759-764
hogge wa, blank c, roochvarg lb, hogge js, wulfsberg ea, raffel lj gorlin syndrome (naevoid basal cell carcinoma syndrome): prenatal detection in a fetus with macrocephaly and ventriculomegaly prenat diagn 14: 725-727
achiron r, pinhas-hamiel o, lipitz s, heiman z, reichman b, mashiach s prenatal ultrasonographic diagnosis of fetal cerebral ventriculitis asociated with asymptomatic maternal cytomegalovirus infection prenat diagn 14: 523-526
ko t-m, hwa h-l, tseng l-h, hsieh f-j, huang s-f, lee t-y prenatal diagnosis of x-linked hydrocephalus in a chinese family with four successive affected pregnancies prenat diagn 14: 57-60
gupta jk, bryce fc, lilford rj management of apparently isolated fetal ventriculomegaly obstet gynecol surv 49: 716-721
hill lm, grzybek pc sonographic findings with pfeiffer syndrome prenat diagn 14: 47-49
holzgreve w, feil r, louwen f, miny p prenatal diagnosis and management of fetal hydrocephaly and lissencephaly childís nerv syst 9: 408-412
schwanitz g, schžler h, gembruch u, zerres k chromosomal findings in fetuses with ultrasonographically diagnosed ventriculomegaly ann gÌnÌt 36: 150-153
brocard o, ragage c, vibert m, cassier t, kowalski s, ragage j-p prenatal diagnosis of x-linked hydrocephalus j clin ultrasound 21: 211-214
chari r, bhargava r, hammond i, ventureyra ecg, lalonde ab antenatal unilateral hydrocephalus canad assoc radiol j 44: 57-59
patten rm, mack la, finberg hj unilateral hydrocephalus: prenatal sonographic diagnosis ajr 156: 359-363
bromley b, frigoletto fd, benacerraf br mild fetal lateral cerebral ventriculomegaly: clinical course and outcome am j obstet gynecol 164: 863-867
bronshtein m, ben-shlomo i choroid plexus dysmorphism detected by transvaginal sonography: the earliest sign of fetal hydrocephalus j clin ultrasound 19: 547-553
amato m, hžppi p, durig p, kaiser g, schneider h fetal ventriculomegaly due to isolated brain malformations neuropediatrics 21: 130-132
spirt ba, oliphant m, gordon lp fetal central nervous system abnormalities radiol clin north am 28: 59-73
nicolaides kh, berry s, snijders rjm, thope-beeston jg, gosden c fetal lateral cerebral ventriculomegaly: associated malformations and chromosomal defects fetal diagn ther 5: 5-14
roume j, larroche jc, razavi-encha f, gonzales m, migne g, mulliez n fetal hydrocephalus; clinical significance of associated anomalies and genetic counselling: a pathological approach genet couns 1: 185-196
gaston bm, jones be perinatal unilateral hydrocephalus: atresia of the foramen of monro pediatr radiol 19: 328-329
drugan a, krause b, canady a, zador ie, sacks aj, evans mi the natural history of prenatally diagnosed cerebral ventriculomegaly jama 261: 1785-1788
mahony bs, nyberg da, hirsch jh, petty cn, hendricks sk, mack la mild idiopathic lateral cerebral ventricular dilatation in utero: sonographic evaluation radiology 169: 715-721
cardoza jd, goldstein rb, filly ra exclusion of fetal ventriculomegaly with a single measurement: the width of the lateral ventricular atrium radiology 169: 711-714
cardoza jd, filly ra, podrasky ae the dangling choroid plexus: a sonographic observation of value in excluding ventriculomegaly ajr 151: 767-770
pretorius dh, drose ja, manco-johnson ml fetal lateral ventricular ratio determination during the second trimester j ultrasound med 5: 121-124
pilu g, depalma l, romero r, bovicelli l, hobbins jc the fetal subarachnoid cisterns: an ultrasound study with report of a case of congenital communicating hydrocephalus j ultrasound med 5: 365-372
chervenak fa, berkowitz rl, romero r, tortora m, mayden k, duncan c, mahoney mj, hobbins jc the diagnosis of fetal hydrocephalus am j obstet gynecol 147: 703-716
sherer dm, allen ta, ghezzi f, epstein lg prenatal diagnosis of moderate unilateral hydrocephalus subsequently not requiring neonatal decompression am j perinat 12: 50-52
hartnung rw, yiu-chiu v demonstration of unilateral hydrocephalus in utero j ultrasound med 2:369-371