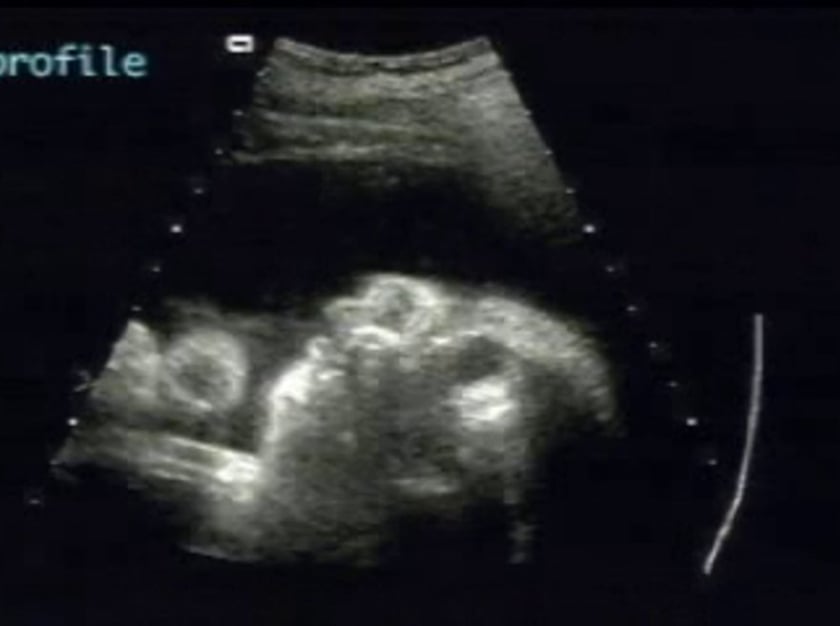 microcephaly
note the sloping forehead and micrognathia associated with a microcephalic head.
description
microcephaly is a clinical syndrome where the head circumference (taken at the level of the transthalamic plane) is below normal. if three standard deviations below the mean is used as the threshold for diagnosis, the incidence is 0.1 per cent.
diagnosis
difficulties exist in the prenatal diagnosis of microcephaly. the utility of head measurements alone is limited, as these can be markedly biased by factors such as incorrect dating or intrauterine growth restriction. furthermore, the natural history of microcephaly is largely unknown. some authors have suggested a progressive intrauterine development of the lesion, rendering early diagnosis impossible in some cases. microcephalic heads have a sloping forehead which can be seen on ultrasound. the lateral ventricles may be enlarged due to cortical atrophy. when gross abnormalities exist within the fetal head, and the fetal head measurement is more than three standard deviations (sd) below the mean, the likelihood of true microcephaly and mental retardation is great. however, when the measurements are between 1-3 sd below the norm, with no intracranial abnormalities, there is reasonable hope that these fetuses will develop normally. microcephaly may be found without associated malformations and may be genetic (eg. phenylketonuria, methylmalonic acidemia) or environmental (radiation, viral infection, alcohol, fetal hydantoin syndrome). where there are associated malformations, genetic causes include trisomies (21, 13, 18) as well as 22, 4p-, 5p-, 18p-, and 18q- syndromes, in addition to a number of single gene defects such as lissencephaly, meckel-gruber, menkes, smith-lemli-opitz and roberts syndromes. it is therefore suggested that if microcephaly (with or without associated malformations) is suspected karyotyping should be recommended. because of the association with moderate to severe mental retardation in over 60 per cent of infants with a head circumferences below 3 sd, the prognosis is necessarily guarded.
differential diagnosis
in its severe form microcephaly may be very difficult to differentiate from anencephaly, but appreciation of an intact calvarium will enable the correct diagnosis in the presence of abnormal intracranial anatomy, the diagnosis of aprosencephaly should be considered.
sonographic features
head circumference 3 sd below mean for gestational age.
exclude incorrect dates and intrauterine growth restriction.
usually best diagnosed by serial scans in the second half of pregnancy.
severe cases may be difficult to differentiate from anencephaly but prognosis in both is hopeless.
associated syndromes
3-hydroxyisobutyric aciduria
ablepharon-macrostomia
absent abdominal muscles-microphthalmia
acanthosis nigricans-short stature
achalasia-adrenocortical insufficiency-alacrima
achalasia
adducted thumbs
adrenal hypoplasia-growth hormone deficiency-skeletal anomalies
albinism-digital anomalies
alcohol
alopecia-congenital seizures
alopecia-keratosis follicularis-dwarfism
alopecia-mental retardation
alopecia-shawl scrotum
alopecia-skeletal anomalies
aminopterin-like
angelman
anophthalmia-postnatal growth failure
armendares
arthrogryposis
asphyxiating thoracic dysplasia variant
asymmetric crying facies
athetosis-deafness-pachygyria
bartsocas-papas
bavinck
bawle-horton
benzodiazepine
blepharophimosis-microcephaly
bowen-conradi
brachy/camptodactyly-short stature
brachydactyly a2-diabetes
brachydactyly-nail dysplasia
burton
býrjeson-forssman-lehmann
calcified cerebral white matter
canescence-joint laxity
cantu
cerebro-oculo-facio-skeletal
cervical vertebral fusion-short stature
choanal stenosis-short stature
chondrodysplasia-joint dislocations
chorioretinal dysplasia 
chromosome abnormalities
chromosome instability
chromosome mosaic variegated aneuploidy
cleft lip/palate-congenital megacolon 
cleft mandible-athetosis
coffin-siris
cofs-osteopetrosis
cohen
congenital heart defects-skeletal changes
congenital heart defects-unusual facies
cortada
craniosynostosis-coloboma-split hand
craniosynostosis-limb reduction-clefting
crouzon
cutaneous hypo- and hyperpigmentation-spastic paraparesis
cutis laxa (male lethal)
de barsy
de lange
deafness-male pseudohermaphroditism
distal aphalangia
dolicospondylic dysplasia
drayer
dubowitz
dwarfism
epiphyseal dysplasia-retinitis pigmentosa
facial anomalies
familial microcephaly
fanconi pancytopenia
feingold
filippi
fundoscopic anomalies without retardation
german
goldblatt
gombo
grix
halal
hallerman- streiff
hall-riggs
hepatic cirrhosis-unusual facies
herpes
hirschsprung-cleft palate
hirschsprung-iris coloboma
hmc
holmes
hunter-mcalpine
hurst
hutteroth
hydantoin embryopathy
hypogonadism-short stature
hypogonadism-short stature-obesity
hypoplastic right heart
immunodeficiency-chromosome instability
immunodeficiency-malformations
immunodeficiency-normal intelligence
intermittent hyperpnea-wide mouth
intestinal atresia-ocular anomalies
intracranial calcification
ives
johanson-blizzard
jorgenson
juberg-hayward
kaufman
kawashima
kbg
kelly
kraus-rupert
langer-giedion
lenz microphthalmia
leprechaunism
lindstrom: iugr-dwarfism
macroepiphyses-wrinkled skin
madokoro
marfanoid habitus
marion-mayers
martsolf
maternal hyperthermia
maternal phenylketonuria
megalocornea
mental retardation-osteosclerosis
methylmercury
microbrachycephaly-eye anomalies-clefting
microcephaly-cardiomyopathy
microcephaly-cubitus valgus
microcephaly-deafness
microcephaly-grey matter heterotopia
microcephaly-lymphedema (benign)
microcephaly-lymphedema (mental retardation)
microcephaly-normal intelligence
microcephaly-normal intelligence-oligodontia
microcephaly-osteodysplastic dysplasia
microcephaly-radio-ulnar synostosis
micromelic short stature-knee subluxation
microphthalmia
microphthalmia-retinal folds
multiple pterygium-lethal
mulvihill-smith
mutchinick
myhre
neonatal axonal dystrophy
neonatal infantile spasms
nephrotic syndrome-infantile spasms
norman-urich
obesity-short stature (x-linked)
oculo-palato-cerebral dysplasia
osteogenesis imperfecta-cataracts
osteoporosis-pseudoglioma
oto-facial-digital ii
palant
partington
pilodentoungular dysplasia
pilotto
pitt-rogers-danks
poland anomaly
polysyndactyly-ptosis
prader-willi
preaxial polydactyly-clefting
premature aging-short stature
premaxillary agenesis-midline cleft
primordial dwarfism-cataracts
proptosis-pierre robin
pseudoprogeria/hallerman-streiff
pterygia-short stature
radial microbrain
reardon
renpenning
retinal detachment-acral anomalies
rhizomelic chondrodysplasia punctata
richieri-costa
roberts-sc phocomelia
rubinstein-taybi
ruvalcaba
salinas
saul
say
seckel
seckel like- premature senility
seckel-like- ataxia-endocrinopathy
seckel-like- majoor-krakauer
seckel-like- osteodysplastic
seckel-like- osteodysplastic types i & iii
short stature-skin pigment anomalies
smith-fineman-myers
smith-lemli-opitz
sparse hair-seizures
stimmler
sutherland
tapetoretinal degeneration
theile
toluene
toriello
trichothiodystrophy-icthyosis
trigonocephaly-hypospadias
trigonocephaly-short stature-developmental delay
trimethadione
urbach
velo-cardio-facial
ventricular extrasystole-hyperpigmentation
vitamin a
vohwinkel
weaver williams
wiedemann: fibrolipomatoid hamartoma
wiedemann: retardation-unusual facies
wiedemann: thumb anomaly-short stature
wiedemann: unusual facies-anal atresia
winter
wrinkly skin
xeroderma pigmentosum
x-linked-unusual facies-callosal agenesis
yunis-varon
zerres
zollino
references
bromley b, benacerraf br difficulties in the prenatal diagnosis of microcephaly j ultrasound med 14; 303-305
lehman cd, nyberg da, winter tc, kapur rp, resta rb, luthy da trisomy 13 syndrome: prenatal us findings in review of 33 cases radiology 194: 217-222
persutte wh, kurczynski tw, chaudhuri k, lenke rr, woldenberg l, brinker ra prenatal diagnosis of autosomal dominant microcephaly and postnatal evaluation with magnetic resonance imaging prenat diagn 10: 631-42
goldstein i, reece ea, pilu g, oíconnor tz, lockwood cj, hobbins jc sonographic assessment of the fetal frontal lobe: a potential tool for prenatal diagnosis of microcephaly am j obstet gynecol 158: 1057-1062
chervenak fa, rosenberg j, brightman rc, chitkara u, jeanty p a prospective study of the accuracy of ultrasound in predicting fetal microcephaly obstet gynecol 69: 908-910
siebert jr, warkany j, lemire rj atelencephalic microcephaly in a 21-week human fetus teratology 34: 9-19
chervenak fa, jeanty p, cantraine f, chitkara u, venus i, berkowitz rl, hobbins jc the diagnosis of fetal microcephaly am j obstet gynecol 149: 512-517
kurtz ab, wapner rj, rubin cs, cole-beuglet, ross rd, goldberg bb ultrasound criteria for in utero diagnosis of microcephaly j clin ultrasound 8: 11-16
rees ae, bates a, clarke h cerebellar hypoplasia in the second trimester associated with microcephaly at birth ultra in obstet & gynec 5: 206-208