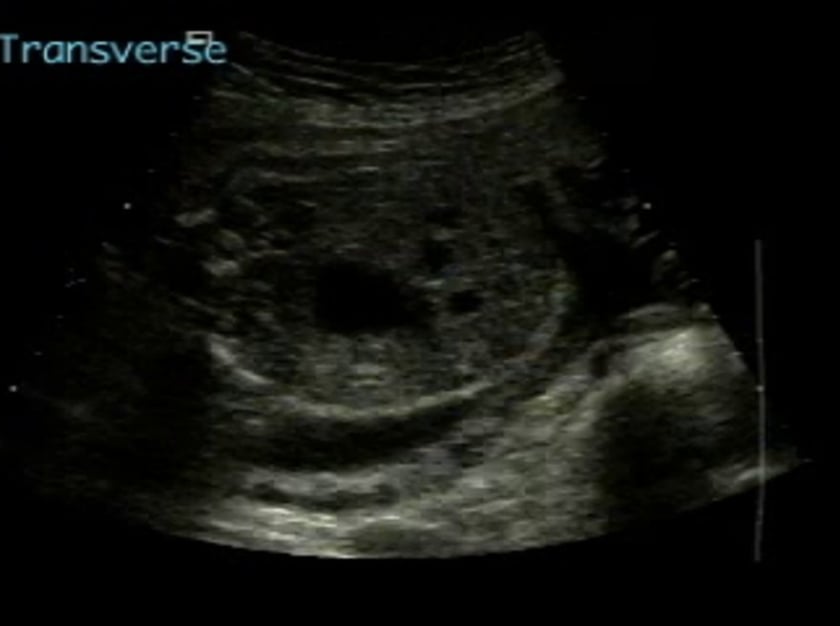 multicystic kidney disease
views of the abdomen demonstrates cystic lesions only on one of the kidneys.
description
simple renal cysts are unilocular, do not communicate with the renal pelvis, and are rare prenatally and in children but somewhat more common in adults. the cysts are not always single but are always limited in number and may produce a crescentic deformity of the calices and renal pelvis in the compressed part of the kidney. displacement of the kidney by the cyst may affect its position as well as the course of the ureter.
diagnosis
simple cysts are usually round, found in the renal cortex and do not communicate with the renal pelvis. they may be large and more than one (but a limited number) may be present. if large they may significantly compress adjacent renal tissue and other structures. simple appearing renal cysts may present as an initial finding in a variety of syndromes depending upon the actual diagnosis – see multicystic kidney disease, microcystic kidney, infantile polycystic kidney disease, adult polycystic kidney disease.
differential diagnosis
multicystic kidney disease usually consists of many cysts of varying size and may be bilateral, unilateral or segmental. the segmental form is usually unilateral and multilocular", less commonly a single large cyst can also form. upj obstruction usually presents with a dilated renal pelvis or caliectasis. multiple nonspherical cystic lesions radiating from the renal pelvis can often be seen but occasionally a single large cyst can form replacing the renal pelvis. adult polycystic kidney disease can rarely present in a fetus as a small single cyst but with time, progressively more cysts form and the kidneys assume an enlarged solid appearance similar to ipkd. a perinephric (or paranephric) urinoma adjacent to the renal capsule may appear to be a cortical cyst but it usually has a more elliptical shape. mesoblastic nephromas and wilmsí tumours are usually solid but can become necrotic with areas of cystic degeneration present. identification of solid areas of tumour rule out simple cyst(s). also, polyhydramnios is frequently associated with mesoblastic nephroma. rarely, a fetus with severe thrombocytopenia can develop a spontaneous renal haematoma resulting in a cystic lesion. other areas of haemorrhage may be identified or the diagnosis suspected based on history."
sonographic features
cyst in renal parenchyma, does not communicate with renal pelvis usually single, can be multiple, can be quite large unilateral or bilateral can be associated with reflux, obstruction, other renal malformations, segmental abnormalities amniotic fluid volume usually normal
references
nyberg d, mahony b, pretorius d in: diagnostic ultrasound of fetal anomalies vol ii mosby year book: st. louis, p476-80
warkany j in: congenital malformations, notes and comments mosby year book: chicago, p1046
romero r, pilu g, jeanty p, ghidini a, hobbins j in: prenatal diagnosis of congenital anomalies appleton & lange: norwalk, p270-273
barzilai m simple renal cortical cysts in children: two uncommon case reports urol iint 53:162-5
broecker poh, redwine fo, petres re reversal of acute polyhydramnios after fetal renal decompression urol 31:60-62